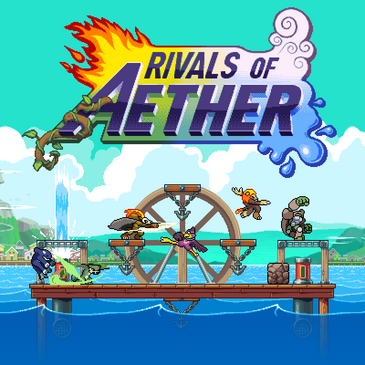 Rivals of Aether is an indie fighting game mainly inspired from the fighting series Super Smash Brothers. It was developed by Dan Fornace and Flashygoodness and released in 2015 on PC and Xbox One.
Rivals of Aether began development in April of 2014. In July 2014 the game was announced and the first two characters (Zetterburn and Orcane) In August of 2014 it was announced the game would be released on Xbox One as part of the ID@Xbox Program.
Gameplay
Edit
Rivals of Aether is set in a world where warring civilizations of classical elements compete for dominance in their home world of Aether. There are currently 11 stages along with 8 playable characters, with a sword-based character set to release in the near future.
There are currently 8 playable characters in Rivals of Aether.
Online Play
Edit
The game uses a Peer 2 Peer system for Online play. You can choose to find a random online opponent or play with one of your friend. The online supports 1 versus 1 or 2 versus 2. Ranked matchmaking and ping filter will be added in the future.
It is recommended to get in touch with your region's community via their Discord server if you want to make sure to have non-laggy matches.
Ad blocker interference detected!
Wikia is a free-to-use site that makes money from advertising. We have a modified experience for viewers using ad blockers

Wikia is not accessible if you've made further modifications. Remove the custom ad blocker rule(s) and the page will load as expected.